On April 25, 2016, Association of BellTel Retirees Chairman Jack Cohen addressed more than 1,000 striking Verizon workers and elected leaders at a State House rally in Trenton, NJ.
Mr. Cohen expressed the retirees' solidarity with the union workforce. "We are engaged to fight on behalf of hundreds of thousands of Verizon retirees and soon-to-be retirees to protect our earned pensions and benefits," he said.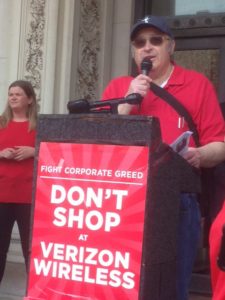 Mr. Cohen told the assembled crowd about the Association's 2016 shareholder proxy campaign, which would cause the company to limit and reduce Verizon CEO Lowell McAdam's potential $40 million golden parachute.
New Jersey's top political and labor leaders, including State Assembly Speaker Vincent Prieto, Senate Majority Leader Loretta Weinberg and several Members of Congress attended the rally, which shut down several blocks along State Street in New Jersey's capital.
"This fight is not just about pensions and healthcare," said Charles Wowkanech, president of the New Jersey State AFL-CIO. "This fight is about making a living in this country for you and your family."
Speaker Prieto said, "The working class has to have a piece of the pie and that's why we're with you. We're going to fight for workers' rights until hell freezes over, and when hell freezes over we're going get you ice skates so you can give them hell even more."
Senate Majority Leader Loretta Weinberg told the crowd to "Stay together," and that "This corporate greed has to stop."
Bob Speer, president of IBEW Local 827 said, "Verizon makes billions, not millions, billions in profit" and is looking for workers to "dig into our pockets deeper." Mr. Speer also thanked the Association of BellTel Retirees for their support of the unions.
To see more photos of the rally go to https://belltelretirees.org/belltelchairman-addresses-1000-unionrally-trenton-nj/
* * *
Since the strike began many BellTel retirees and board members have been in attendance at numerous picket lines and rallies in support of the union workforce. Among them, BellTel board members Tom Steed participated in a massive march and rally in New York City. The CWA, and IBEW, along with allied unions, TWU, Hotel Workers, Teamsters, and Building Service workers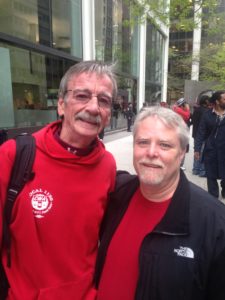 marched from the Verizon New York headquarters at 140 West Street to the Verizon Wireless store at 100 Wall St. The energy and sounds from the rally participants were deafening and could be seen and even heard 18 floors up.
Among leading dignitaries were CWA President Chris Shelton and Local 1101 President Keith Purse, (pictured w/ board member Tom Steed).
Thanks to BellTel member Timmy McManus who assisted in distributing copies of the BellTel Newsletter special strike edition.
* * *
If you have not already had a chance to read it, the Association of BellTel Retirees published a Special Strike Issue of the BellTel newsletter. The issue spotlights many of the concerns of nearly 40,000 CWA and IBEW represented Verizon workers.
In addition to print copies, it can also be found on the BellTel website in the "what's hot" and newsletter archive section.
* * *
The Association is proud to have produced a new member interview video in the early days of the strike. In the 2:45 video, Mary Hogan a member of the Association and CWA retiree told of the critical work that she and her colleagues were assigned to following the 9-11- 01 attacks on New York City and our nation.
Ms. Hogan, a 37 year veteran from the New York Company explained that it was Verizon union workers who sprang into action and led the restoration of emergency and all other communications in lower Manhattan and throughout the City of New York. Some of them were in fact working in the World Trade Center when the attacks occurred.
In the days and weeks that followed, Ms. Hogan and her colleagues work was deemed critical to public safety and they were assigned to New York's One Police Plaza, site of the emergency command center housing regional and federal agencies including the NYPD, FDNY, FBI, CIA and many more. For five days they did not return home, working round the clock and even sleeping at the command center.
So when we hear rhetoric from company spokespersons about the unimportance of wireline to the company, and modern management's utter disregard for the great legacy and strategic importance of the Verizon system we all built and that many highly skilled workers maintain, this video puts it all in perspective.
"It's a disgrace that workers have to go on strike again. After 37 years I was with the company, I've gone through quite a few, including the '89 strike, where we were out for 4 months. I had family members who were involved in the '71 strike where they were out for 9 months and its like you have to keep battling the same stuff over and over again. Union workers are the ones they call when they are in trouble," said Ms. Hogan.
In just the first week the video was seen nearly 7,000 times combined on our Facebook and our YouTube channel. You can you view and share the video at http://bit.ly/1THGNLY