In late April, nearly 250 people – with 50 more joining by video conference – celebrated BellTel's 20th anniversary in Tarrytown, New York, getting together to discuss its efforts to represent retirees' earned benefits, federal litigation, pension de-risking, and the 2016 Verizon proxy.
The event kicked off with a 90-minute continental breakfast and opportunity for former work colleagues to reunite.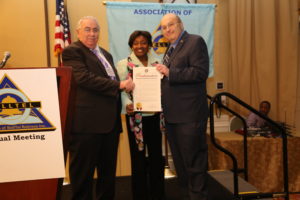 The retirees welcomed special guest NY State Senator Andrea Stewart-Cousins of Westchester County, who is minority leader in the state legislature's upper chamber.  More significantly, she told the gathering her first job was with New York Telephone and her former supervisor was in the audience to offer a greeting. She presented the group with a legislative proclamation honoring 20 years of advocacy success.
Association Special Counsels Curtis Kennedy and Edward Stone each addressed retirees' questions about their pensions, ongoing federal litigation and state legislation seeking better protections for retirees whose pension have been "de-risked."
The Association currently has litigation, Pundt v. Verizon, challenging Verizon's action to sell off the pensions of 41,000 retirees to Prudential Insurance.  The U.S. Supreme Court is reviewing and considering whether to hear arguments in the case.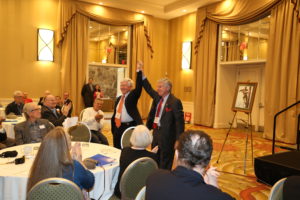 Kennedy told the crowd that the Supreme Court takes on only 75-80 cases a year and that they are waiting for a decision in the unrelated Spokeo v. Robins case before moving forward on BellTel's case.
In regards to Pundt v. Verizon, Mr. Kennedy expressed his belief that retirees have been harmed when a company "misuses pension money to pay for corporate expenses," a key argument in the case.
Representatives from Prudential also participated, presenting an award to the Association and taking time to answer de-risked retirees' questions and concerns about our pension-annuities.
One retiree asked about the main difference between the Association of BellTel Retirees and its sister organization, ProtectSeniors.Org.
President Jack Brennan responded that ProtectSeniors.Org has the ability to lobby and push for new legislation, while the Association is not able to do this due to its status as a non-profit organization.  He encouraged the membership to donate to both groups.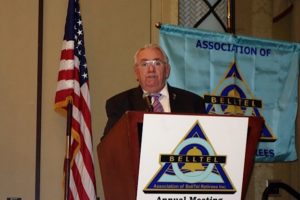 Later, Mr. Brennan read a letter from Richard Speer, President/Business Manager of the IBEW Local 827, thanking the Association and its members for their support for striking union members.
Each year, since its founding, the Association has chosen different locations across the U.S. to host its membership meetings. This allows its members in different regions a chance to participate. Over the last 20 years, the meeting has rotated to 14 different cities attended by thousands of retirees.
The Association would like to thank all the many retirees and spouses who attended the meeting and who volunteer on our event committee for making this celebration a success. Special recognition goes to event chairman Dave Simmonds.