When some people reflect back on their lives, they might have regrets. This is not the case for Dolores Riedel. Her story is instead filled with laughs, smiles, and fond memories.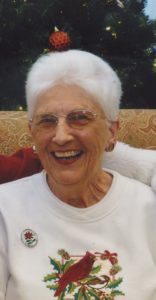 Dolores graduated high school in West Orange, NJ in 1949 and quickly joined the work force. She spent the first three years out of school at a bank, but quickly realized she wanted a job with better pay and benefits. She was torn between going into either insurance or the telephone company, but it was New Jersey Bell that won out.
Though in her 80's, Dolores is still as vivacious as the 20-something she was when she first started working with NJ Bell. This is no surprise, as her mother lived to be 108 and one uncle to 101.
When thinking about the struggles that come with retirement, Dolores recognizes the need for groups like of The Association of BellTel Retirees.  Since becoming a member in 1999, she sees them as a critical line of defense against the issues and injustices retirees face.
"The Association is the only thing helping us save what we get in benefits and pensions. I'd like to give Congress a swift kick, they take so long to get anything done! I hope The Association lasts forever," she said.
Dolores' 35-year career took her to several departments and locations across New Jersey. She worked in the directory, and personnel department in Newark. One particular memory of her time with the directory department was organizing the Yellow Pages when ads became mechanized. The team had to count the ads in the book and compare them to those on the computer to ensure they matched and none were omitted. It was tedious, but the work guaranteed continuity.
After a few years working in personnel, she transferred to East Orange, where fate intervened. She would frequently see a woman from the Telephone Pioneer office and they struck up a friendship. When a job opened with the Pioneers, Dolores was recommended.
The staff in the Pioneer Offices would handle two different jobs, the finances and clerical duties. The employees would spend three months on one job, and then rotate to another.
Dolores would answer phones, assist council leaders who needed help supporting their members, help plan the always important monthly Pioneer meetings, and assist with holiday and birthday mailings.
She stayed with the Pioneers and eventually retired in 1989 after 35 years with the company. She says that in those 3 ½ decades, many of her favorite memories were in the Pioneer offices.
She recalled one event that required costumes. She donned a Hawaiian mu mu and lei, and a dark wig. So convincing was her costume that coworkers didn't even recognize her.
"My favorite part of the job was the nice people I met. It was so different then. My co-workers felt like my aunts and uncles."
Throughout her Bell System career, Dolores always made travel a priority. In 1972, she was even able to take six weeks off to travel cross county with her mom. The trip totaled 9,000 miles and took her to the west coast and back. "I am glad I did it when I did," Dolores laughed, "because I couldn't sit that long now! I have amazing memories."
The travel bug continued after retirement and even led to a part-time job at a travel agency. She has since visited Alaska; Bermuda; Nova Scotia; Lancaster, PA; Savanna, GA; Charleston, SC; and, most recently, a tour of the National Parks during the winter time.
"I loved seeing the parks in the winter. It was 23 below in Yellowstone – now that is what I call an adventure!" Dolores said. She has also enjoyed touring the U.S. by train.
Longevity lives in her blood. However, that is also a key factor in her retirement. Outside of a $5,000 lump sum, Dolores has not had an increase in her pension since retiring. That means 27 years of inflation with zero increase in her funds.
More than 25 years after her retirement she opines, "When I think of all the money they (Verizon) spent on buyouts. . . they let good workers go in those buyouts but won't increase our benefits. There has been no pension increase. I am living on the same amount of money (as in 1989) when everything is now four times as much," Dolores said.
The Association would like to recognize Dolores and many fellow long-time retiree members and supporters. The fight we wage is for your future and the protection of all of our collective economic well-being.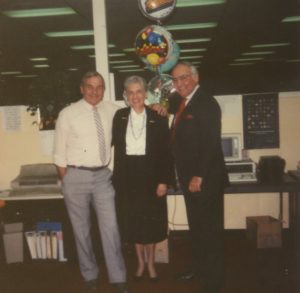 Retirement party in Pioneer chapter office in 1989.  (L-R) Walt Robbins, Downstate NJ Administrator, Dolores Riedel and Nick Unger, Upstate, NJ Administrator.