New York City's Times Square is known as the Crossroads of the World and the Great White Way. It is home to Broadway's biggest stars of yesterday and today, and entertains millions throughout the year. Annually over one million people gather there to watch the ball drop and welcome in the New Year.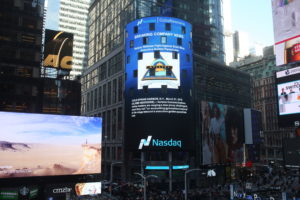 We hope you understand our point that Times Square is a very unique, high profile place, as we inform our members that to mark the Association's 20th anniversary, BellTel's name and logo were featured in the bright lights of Broadway, an amazing eight and a half stories tall.
Association President Jack Brennan said, "Being featured in the bright, shining lights of New York City's Times Square is something many aspire to, but few achieve. This volunteer led, non-profit organization is one of unique achievement and getting the job done. So for me to see the Association of BellTel Retirees recognized in such an illustrative manner, must be seen as yet another amazing feat for our organization."
To quote the legendary Frank Sinatra from his song New York, New York: "I want to wake up in a city that doesn't sleep. And find I'm king of the hill, top of the heap…If I can make it there, I'll make it anywhere." Congratulations to the Association of BellTel Retirees and all of its members and leaders for 20 years of action and amazing results.