The BellTel newsletter has taken the last few issues to gradually look back at the last 20 years since the group's founding. We have recalled key events, people and the retirees who have empowered and  supported our successes.
From 2006 to 2010 our Association achieved many milestones: its 10th anniversary, second successful proxy and the birth of its lobbying arm, ProtectSeniors.Org.
In 2006, the Association celebrated its 10th anniversary while holding its annual member meeting in Long Island, New York. A crowd of over 500 attended and heard guest speaker Curtis Kennedy, now our Association's special legal counsel, talk about Verizon pension plan matters and how those potential concerns compared to issues faced by retirees from other companies.  He urged all retirees to learn more about the management of the plans that contained their pension assets.  That message is still critical today.
Association gives birth to ProtectSeniors.Org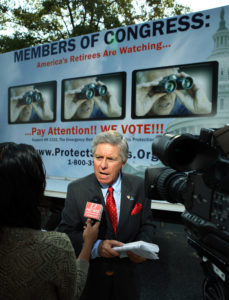 The Association took another step to strategically expand the fight for retiree-friendly legislative protections by founding ProtectSeniors.Org. In its first year, 29,000 retirees from across the U.S. and different industries joined ProtectSeniors.Org. This was important because it added  the voices from other retiree sectors to our national efforts.
Continuing Proxy Success
Also in 2006, Verizon agreed to change its corporate bylaws to mandate an independent Verizon board of directors.   At the time, ten board members served on at least two other boards and two served on four or more boards. Prior to its annual shareholder meeting, the company changed its policy and adopted part of BellTel's proxy proposal by tightening the number of boards a director could serve upon.
At the time, Association CFO Bob Rehm said, "Who would have thought a group of retirees could take on and defeat the 18th largest company in America not once but four years consecutively? This is a warning to CEOs and their hand-picked deputies that the company does not belong to them, but rather to each and every shareholder."
Then in 2007, 50.18% of Verizon shareholders voted with the Association's "say on pay" proxy proposal, to give shareholders a say about executives' compensation.  The win by BellTel leaders made headlines across the global financial community, including in the New York Times, Wall Street Journal, Fortune magazine, and hundreds of other news outlets.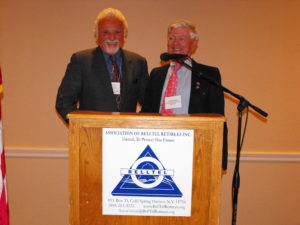 At the 2008 BellTel member meeting in Sturbridge, Mass., former Chairman of the U.S. Federal Reserve Bank of Richmond, Dr. Thomas J. Mackell, served as a keynote speaker. He addressed over 250 members about the need to ensure Americans can continue to retire comfortably.  Dr. Mackell spoke of the growing problems associated with retirement funds, 401(k)s, America's debt ballooning and the healthcare crisis, and how employee benefits have been negatively changing. Dr. Mackell suggested a need to educate plan participants on their benefits, encouraging all people to better know how to track their investments and to push Congress for pension reforms.
Parting ways with the NRLN
BellTel was one of the original founders of the National Retiree Legislative Network in 2003 because financing was needed to for its efforts to draft HR 1322 legislation, (Emergency Retiree Health Benefits Protection Act), and BellTel needed help to get it passed.  The plan was to unite small retiree groups to lobby for a common cause.  Unfortunately, the NRLN decided to put HR 1322 on the back burner and direct its efforts to other legislative pursuits.  The Association parted ways with the NRLN and teamed up with ProtecSeniors.Org.
Retirees speak before Congress
In 2008, Association President C. William Jones testified before the U.S. Congressional Committee on Education and Labor regarding the Emergency Retiree Health Benefits Protection Act (HR 1322), now known as HR 1856, the Earned Health Benefits Protection Act.  He was accompanied by hundreds of ProtectSeniors.Org and BellTel retirees who traveled to Capitol Hill to show their support.
Mr. Jones told Congress, "For decades employers told their employees that their reduction in pay and other perks were in exchange for their retirement healthcare and other benefits…Yet after they retired, these same employers started to charge retirees for their health insurance or stopped paying for it altogether. We are not here asking for a handout.  What we want is for companies to live up to the promises they made and give us the health benefits we earned and paid for over decades of loyal service."
Association leaders retire
At the end of 2008 after many years of service, two original and long-time Association board members, John Parente and Joseph Ristuccia, retired. Both had spent over 30 years in the telecommunications industry and a dozen more years serving the Verizon retiree community.
The Association applied for and was accepted as a member of the prestigious Leadership Council of Aging Organizations.  The group has 55 national non-profit member organizations that are involved in work on senior issues.  By joining the group the Association became more informed and involved in issues that seniors experience and is better able to bring our issues into the national spotlight
Murphy v. Verizon
In 2009, the Association filed a lawsuit on behalf of directory operations retirees against Verizon Communications and Idearc over Verizon's decision in 2006 to transfer the pensions of some 3,000 retirees to  Idearc, a new spin-off that from the start was an undernourished company. Idearc eventually filed for bankruptcy in 2009 and again in 2013.
None of the retirees transferred had ever worked a single day for the company. The move was a last-minute administrative sleight of hand meant to dump retirees from Verizon's balance sheet. The  retiree-led lawsuit was later granted federal class action certification.
In the Fall issue, we will continue to look back on the Association's history of advocacy and achievement. We also ask that you please share with us some of your own stories or photos reflecting on your years at the company or in retirement. Perhaps it is something we can share with our larger retiree community.
Please write or email us your favorite memories or share them with us on Facebook. In our next issue we will look back at the years 2011 to the present day.