ProtectSeniors.Org, a national legislative and lobbying organization created by the Association of BellTel Retirees to fight for the protection of retiree economic benefits will kick off a two week, seven state & District of Columbia mobile ad campaign in New York State.
Over the course of two weeks, the 8 x 16 foot mobile billboard will travel through the streets and highways of New York, Maryland, Delaware, Virginia, Pennsylvania, Washington D.C, New Jersey and Connecticut with a message to the Members of the U.S. Congress. The mobile billboard reads "Members of Congress, America's retirees are watching…Pay Attention! We Vote!"
Here is the route – you are encouraged to come out and participate:

– The kick off press conference was held in Mineola, Long Island, NY at 10 am on Tuesday, September 19, at 100 Supreme Court Drive, South Steps.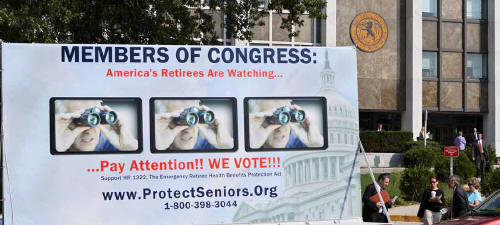 The ad campaign was designed to highlight retirees' concerns regarding Corporate America's elimination and reductions to retiree subsidized healthcare and to draw attention to the formation of the activist group earlier this year. For thousands of retirees, healthcare benefits have been slashed or completely eliminated, forcing them to pay more of their medical expenses out of pocket, return to the workforce on a part-time or full-time basis or, in some cases, sell their homes.
Among ProtectSeniors.Org priorities in 2006 is the passage of H.R. 1322, the Emergency Retiree Health Benefits Protection Act through Congress. H.R. 1322 would make it illegal for a corporation to take away or diminish health benefits earned by retirees and that were promised to them during their working years in lieu of salary or hourly wages.
Retiree Healthcare benefits are an earned benefit from employers, not a gift. The time has come to reverse the national trend and make it illegal to steal retirees' earned benefits. Retirees are now the single largest voting block in America, we are getting stronger and we are determined to make sure that our benefits are protected.
For more information about ProtectSeniors.Org call 1-800-398-3044 or visit www.protectseniors.org
Bill
C. William Jones
President & Executive Director
Association of BellTel Retirees Inc.