Every year, New York City's Saint Patrick's Cathedral and the Archdiocese of New York celebrates its Labor Mass to honor those dedicated to preserving the rights and benefits of working men and women.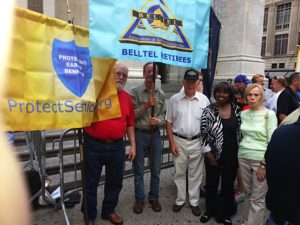 This year the Mass will be on Saturday, Sept. 10th.   Please save-the-date and join the Association of BellTel Retirees as we lift our banners alongside those of our union brothers and  sisters.  Our group will assemble in front of the Cathedral at 7:30 am on the Fifth Avenue and East 51st street side.
This year, should have extra significance given the long strike.  Whether your roots are with the CWA or IBEW or management, all of us have friends and family in the union movement to advocate for wages, benefits and a decent retirement.
Show your support for all the working men and women of our nation and turnout if you can.   We hope to see you there.
Please RSVP by calling 1-800-261-9222 or email at association@belltelretirees.org.