This year, the BellTel newsletter has been looking back at the 20 years since our founding in 1996 by a handful of our fellow retirees. We have taken a look at some of the key milestones along our successful journey together, as we have fought and continue to fight to protect the rights and benefits that our retirees have earned. In this issue we take a look at 2011-2016.
Over these most recent years, retirees have seen changes in leadership at both Verizon and the Association of BellTel Retirees, welcoming in new leadership and facing down new challenges.
We won yet another proxy proposal, our 11th victory against Verizon, cementing our place as the most successful shareholder activist group in Verizon's history, if not U.S. history. In addition to using the power of our votes as shareholders, over the years the Association has waged several strong and effective legal battles to stop the company from cheating retirees out of what they deserve. In the past few years we raised that portion of our advocacy to new heights. After being hit with a shockwave in 2013 when Verizon spun off the pensions of 41,000 retirees into less-protected insurance annuities, we sued. Today, that case has achieved what 99 percent of all federal lawsuits fail to accomplish: It was granted a petition by the United States Supreme Court.
In dramatic show of how powerful a presence the Association has become, in the spring of 2016, BellTel was honored by having its name and logo spotlighted high atop the jumbotrons in New York City's famous Times Square.
These and other highlights from the last few years are detailed below:
Transition in leadership
BellTel Co-Founders C. William Jones and Robert Rehm both retired from the Association as President and CFO after years of dedicated service.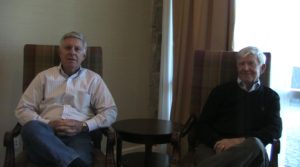 Mr. Rehm retired in 2013 after serving on the board for 17 years.  Once asked why he volunteered so much time, he said, simply, "because it was the right thing to do."
Upon retiring as our Association's fearless leader at the end of 2014, Bill Jones told members, "It has been a very exciting and fulfilling 18 years leading this organization and your support has been wonderful." A smooth transition was had, as longtime Chairman Jack Brennan assumed the presidency of the Association.
BellTel was not the only Verizon oriented organization that saw leadership transition.  Longtime Verizon Chairman and CEO Ivan Seidenberg retired in 2011.  Mr. Seidenberg had risen through the ranks of New York Telephone and, many retirees remember working with him during their careers.  Lowell McAdam was bought in from outside the company and its culture, to become current Chairman and CEO.
Pension De-risking
The year following Mr. McAdam's arrival, 41,000 Verizon management retirees were shocked when the company brokered a $8.5 billion deal with Prudential Insurance Company, converting those retiree pensions to a group annuity.  This meant that all of those Verizon retirees immediately lost ERISA and PBGC protections provided under federal law.
When the surprise transfer was announced, BellTel sprang into action and sought a court injunction to stop it, but unfortunately the federal courts allowed it to go through and in January 2013, those 41,000 Verizon pensioners, became Prudential Group annuitants.
Soon after, BellTel leaders began a high level dialogue with top Prudential leaders to express the concerns and trepidations our retirees have about the transaction's impact on their lives. That resulted in opening an ongoing BellTel/Prudential partnership that works to enhance policies and practices for present and future annuitants.
Litigation
Carrying on its pension de-risking litigation, BellTel sued Verizon over the $8.5 billion spin off.  The resulting litigation, now known as the Pundt v. Verizon case, has presently risen all the way to the United States Supreme Court.  Led by BellTel Special Legal Counsel Curtis Kennedy, the case was granted a very rare petition by the nation's highest court, which chose to vacate the lower court decision and ordered that the lower federal court judges have another and closer look at the law as it relates to our case.
Retirees argue that the $1 billion in retiree pension plan assets that Verizon used to pay transaction fees were excessive and unreasonable, and therefore a breach of ERISA.
It is critical to note that the U.S. Supreme Court considers less than 1 percent of all cases seeking review, only 75-85 each and every year, meaning the impact to date is a remarkable achievement.
BellTel wins another proxy by majority vote
As it has several times in the past, BellTel scored another shareholder proxy victory in May 2013, to allow Verizon shareholders to nominate directors for election to the company board. This passed at Verizon's annual meeting earning 53.2% of the vote. This win marked the Association's third victory by majority vote and 11th bylaw change from the behest of the Association's advocacy, again illustrating to the company our Association's impact.
ProtectSeniors.Org's efforts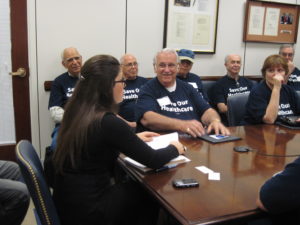 While BellTel has been fighting on behalf of retirees through litigation, proxy proposals and much more, its sister organization, ProtectSeniors.Org, has been working for stronger healthcare protections and better pension de-risking protections on Capitol Hill and in statehouses across the country.
It achieved the introduction of new federal legislation, the Employee Benefits Protection Act, HR 1856, in Congress.  This would make it more difficult for companies to terminate or modify earned pension and healthcare plans once a worker retires.
In 2015, Connecticut Governor Dan Malloy signed a new retiree pension de-risking protection legislation into law to restore creditor protections to retirees who were de-risked.  Similar bills are currently in the works in New York, Massachusetts, Pennsylvania and New Jersey.
Your Association of BellTel Retirees has continued to achieve many significant results over these twenty years and we thank all of you for making us stronger and we encourage you to remain a very key ingredient of that success.  We also ask for your continued loyalty and support to our cause, so we can keep up an aggressive fight for all of our fellow Verizon retirees.