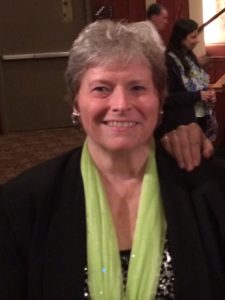 The 1960's were an iconic decade, one filled with new rights and opportunities for women.  Diane Hegarty was one of those women moving with those new opportunities, building a career in the New York Bell System.
Diane grew up in a large family. She studied dance and singing at Marjorie Marshall's dance school. Ms. Marshall was the mother of legendary Hollywood actors, directors and producers Penny and Garry Marshall.  These are just some of the amazing people Diane met in her life.
In 1966 a family friend who worked at NY Telephone, directed her to MaBell.
At 17 years old, Diane was hired as a representative with the company. "They called me baby rep because of how young I was," Diane quipped.  A year and a half later, she interviewed for a job as an observer. She stayed at the position for almost two years, before becoming a supervisor at the age of 21.
During six years in that position, she and her co-supervisor wrote a sales and promotional program called PEP  to reward sales representatives.  The plan would eventually be used in all of New York City.
She recalls some of her best memories were her role to motivate and reward company sales representatives.
For one noteworthy event at the United Nations, she hired a Ronald Reagan look alike. The security conscious U.N. gave them a hard time although "The women loved it, swooned and took pictures with him, the United Nations was not happy," Diane said.
"I met a lot of people, had a lot of fun, and worked really really hard. People like to have fun, and will work harder if they get to have it," Diane said.
Diane has been a long time member of the Association of BellTel Retirees, attending numerous annual member meetings.  She has appreciated the Association's help in handling medical questions and keeping retiree issues on the front burner.
"Verizon doesn't have any personnel to help us! The Association has been very helpful and on point with my questions," said Diane.
She added, "They are the only Association available that we can turn to for help with our retirement issues. They do "it", because "it" has to be done.  I personally appreciate all their efforts and what they continue to do to. If not for the Association, Verizon would have had no one to question or curtail their evil endeavors to diminish our rights. Kudos to the Association of Bell Retirees!"
Diane retired in 1996, a few months short of 30 years with the company. By the time she retired she had worked in several departments besides sales promotions, including phone centers, regional staff, and marketing.  She retired as Acting District Manager.
Her retirement occurred during a tumultuous time in the company as NYNEX had let a lot of employees go.
"The environment had changed; it became a lot less fun. In the past people helped one another. When I was new, people always helped me out.  Now people were fighting for their jobs, and that part of the environment changed," said Diane.
After NYNEX, she spent 8 ½ years working at Broadview Networks as a Managing Director.
Diane would later become one of the 41,000 retirees whose pensions were de-risked to Prudential.   "Verizon has enough money to buy YAHOO, but not enough to keep us out of Prudential," Diane said, exasperated.
Diane thinks it is imperative to preserve retirees' health benefits. "Based on my family longevity, I may have thirty more years to thrive, or at least live.  Like an old car, as my "mileage" increases, I will certainly require additional maintenance to support my quality of life."
In retirement, she has used her motivator skills to better those around her. She was a nursing home ombudsman  and is on the board for her local garden club. However, it is on the stage with the Old Mill Singers where she really takes the spotlight and uses her stage presence.
The Old Mill Singers is a coed vocal group based in Ossining, New York. They use their performance talents to fundraise for causes like the fight against cancer.  They sing at nursing homes, recreational concerts and events throughout New York. Her most notable concert involved preforming as one of the six merry murderesses from the musical Chicago.
Regarding the Association, she says "The organization has been striving tirelessly to help preserve and protect our rights. It is a thankless job. There have also been some real wins thanks to those who dedicate hours of their "leisure time" to our causes.  They have worked diligently to establish the Association as one to be seriously dealt with and successfully meshed Management and Non-Management people to really work together as Verizon could never do!"